Today, I had to cancel and reschedule a date.
I hated to do it, because truth-be-told, I wanted to go on this date.
But alas, the sky was dumping snow onto the ground, the temperature was below freezing, and I was just a little bit too nervous about the idea of exposing myself to the insanity of Missouri roads (and other drivers) in such wintery conditions.
But here's the real kicker.
This was the second time I had to reschedule.
The first time (last week) was for the exact same reason (bad weather).
At this point, I was afraid that she would start to feel like I wasn't actually motivated to spend time with her, which was totally not true.
I do want to spend time with her.
So how do you communicate this and successfully reschedule the date when the need has arisen to cancel it one or more times, and the reasons are truly beyond your control?
Let's talk about it.
Is It Okay To Postpone A Date?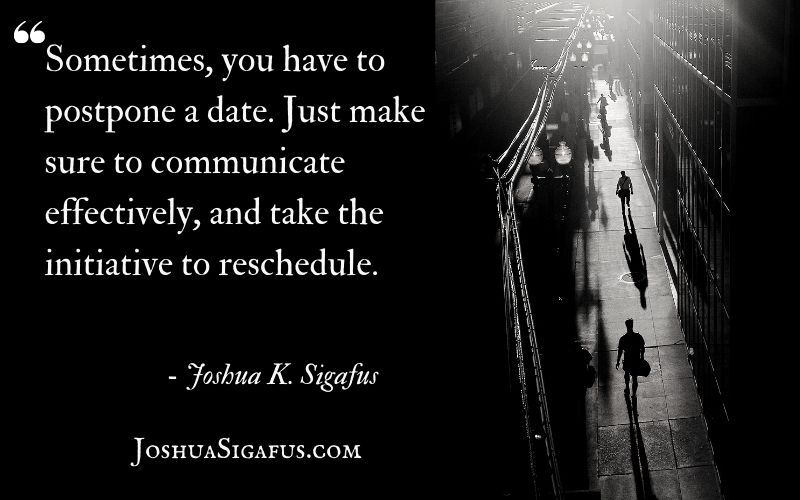 Here's what you need to understand.
Yes, it's perfectly okay to postpone or reschedule a date.
But in doing so, you risk a lesser chance that the other person will want to actually reschedule.
For the most part, this has to do with them not being sure if you actually want to meet, or if you're just playing games.
And this is understandable.
If you postpone or reschedule a date for a legitimate reason, but are still motivated to meet and hang out, then there are ways that you can communicate this successfully—as long as you go about it the right way.
Is it rude to reschedule a date?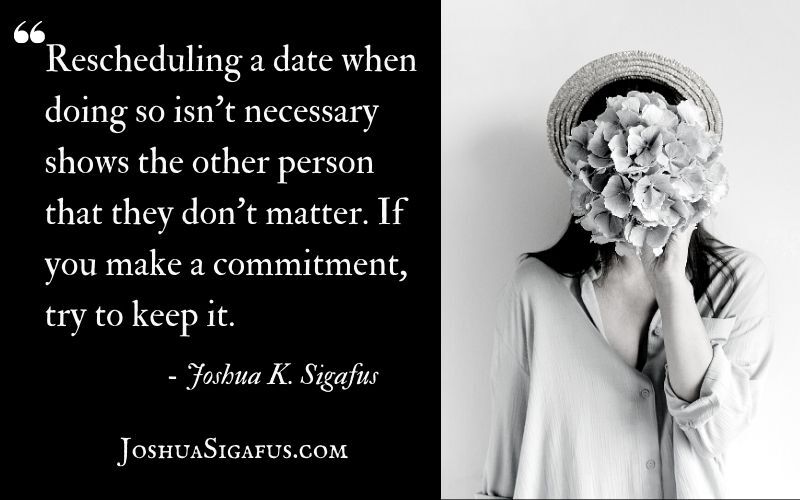 It's not necessarily rude to reschedule a date, as long as you have a good, legitimate reason for it.
It is very rude, however, to reschedule a date when you don't really have a good reason to, or because something better came along and so you decided to jump at that.
In fact, it's not just rude. It verges on being downright disrespectful.
But here's the kicker.
You need to ask yourself: Do you really want to have a date with this person? Or do you keep scheduling and re-scheduling it just to fill up the time?
Do You Actually Want To Reschedule?
If you're actually postponing or rescheduling because you aren't motivated to meet and hang out with this person…well, that's something different entirely.
Maybe this isn't the person for you if you aren't really excited to meet up, and if the date doesn't really matter to you.
If you truly want to have a date with this person, then rescheduling is fine—and they'll probably understand.
But if you're just using them to fill up time, both you and the other person would probably be better off if you just canceled and were honest about the fact that you don't really want to go on a date.
How To Reschedule A Date The Right Way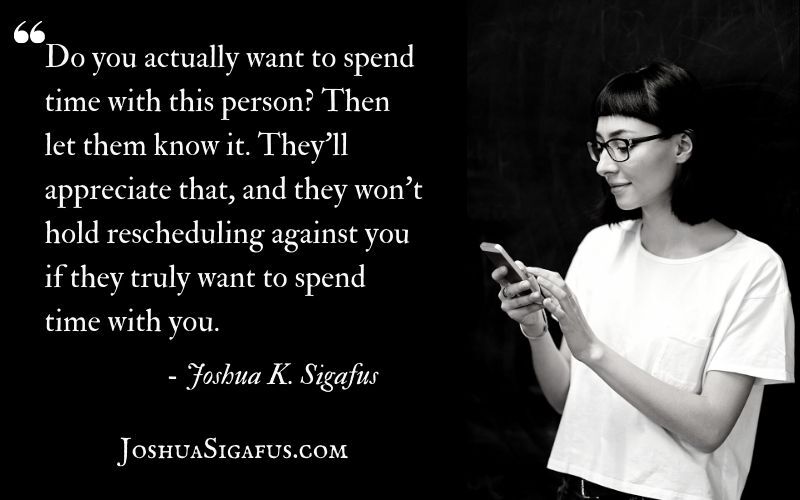 If something comes up that forces you to reschedule a date that you really wanted to go on, it's in your best interest to do three things.
Be honest about what came up. Don't try to make up stories or give non-answers.
Propose a time and place to reschedule. Since you canceled, it's your responsibility to propose a reschedule date.
Make sure to let them know that you still want to see them.
When you cancel a date with someone, their first instinct is going to be to assume that you don't want to see them, and that you're just making an excuse to get out of it.
To eliminate this assumption, you should make sure to let them know that you're disappointed with the fact that you have to cancel, and that you're really looking forward to seeing them again.
An Example Message For How To Reschedule A Date The Proper Way
"Hey *name*, I was really looking forward to our date tonight, but I'm afraid that I should probably reschedule. It just snowed again, and since you live a little ways outside of town, and since the temperature won't be climbing above freezing again, I don't feel that it would be a good idea for me to make the drive. I really want to reschedule with you, though, as I was really looking forward to seeing you. Would Monday evening at 7 work as a reschedule date? By then, the roads should be clear."
In Conclusion
Just remember that, at the end of the day, people have feelings.
Our goal should be to conduct ourselves as ladies and gentlemen in this world.
And in order to do this, we need to take into account that common courtesy and mutual respect/kindness in such instances can go a long way.
Hopefully, this post has given you the information you need to successfully reschedule those dates that you're forced to miss.
Go with grace, my friends, and never give up your power.
Joshua K. Sigafus